IN THE TOWER: BARBARA KRUGER National Gallery of Art, Washington, D.C.
September 30, 2016 - January 29, 2017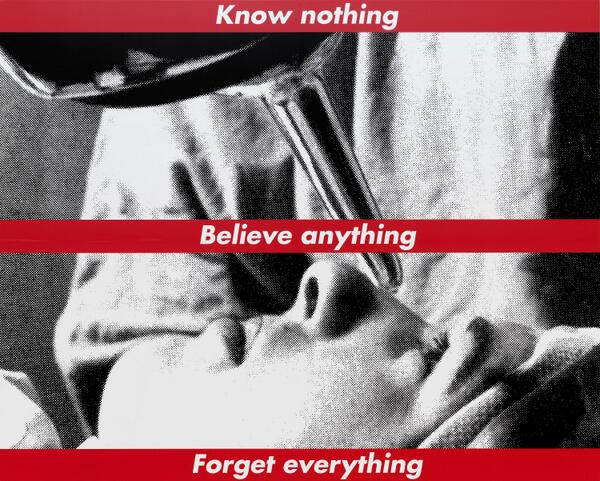 With the recent acquisition of American artist Barbara Kruger's Untitled (Know nothing, Believe anything, Forget everything), the National Gallery of Art in Washington, D.C. has organized an exhibition, In the Tower: Barbara Kruger, featuring the new addition alongside  similar works exemplifying her sharp wit and forthright use of text and imagery. The exhibition will reopen the museum's East Building Tower after a three year hiatus due to a series of renovations. Set to open September 30, 2016, the exhibition is free to the public and will run through January 29, 2017.
Read more about the exhibition here.
Barbara Kruger was commissioned by Lincoln Center's Vera List Art Project in 2012 to create a limited edition print in celebration of the program's 50th anniversary.
Above: Barbara Kruger, Untitled (Know nothing, Believe anything, Forget everything), 1987/2014, screen print on vinyl, National Gallery of Art, Washington